At Continuum, we are proud of who we can call partners, both with our consultants and our clients, because of the caliber of who they are and what they are doing as leaders. Our new Continuum Spotlight Series is intended to showcase the good news happening in the world, particularly by and with Continuum consultants and client partners. We invite you to take a few minutes from the stress of your life to celebrate with us what's working well in the world today.
Victor McGuire and Coaching for Everyone
What do you get when passion, purpose, talent, and servant leadership meet up with an unrecognized need? Great ideas often emerge, suchas the newly formed non-profit, Coaching for Everyone.
Victor McGuire, PhD, Executive Coach and Consultant, has been a servant leader throughout his adult life. Starting at "Up With People" and continuing as a teacher, school administrator, university professor, and recently a double certified strength-based coach and consultant, Victor is committed to developing others in ways that improve their lives.
Influenced by his experience studying history, politics and educational systems in South Africa as part of receiving the prestigious Fulbright Scholarship, Victor published several books and initiated multiple programs serving youth leaders, educators and executives. His most recent accomplishment is founding the non-profit organization, Coaching for Everyone, with a mission to offer pro bono coaching and leadership support to traditionally underserved and under-resourced Black, Latinx and Indigenous populations [BIPOC].
The Story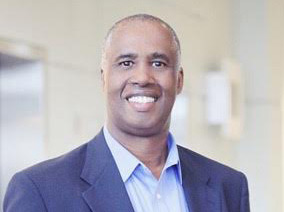 2019 was a significant year for Victor. With thirty years of leadership development experience and a passion for learning, he set out to obtain
two executive coaching certificates to enhance his services even more, one the Executive Strengths Coaching certificate from the MarcusBuckingham Company, the other the Certified Professional Executive Coach by Co-Active Training Institute (CTI). In March 2020, just as the global pandemic was unfolding, Victor looked around and noticed he was one of few, if not the only, person of color either being coached or serving as the coach. This experience led him to ask a profoundly important question, "How would the lives of those who are under-resourced be impacted if they had access to the same types of coaching as some of the top employees in Fortune 100 companies? How would their limitless potential be activated?" Coaching for Everyone was born the very next day.
The Good News – "Coaching really is for everyone and should be accessible."
Coaching for Everyone, a 501c3 nonprofit organization, is creating opportunities and activating potential every day by attracting qualified coaches who provide complementary coaching and leadership services to under-resourced populations, particularly Black, Latinx and Indigenous young adults, K-12 educators, and nonprofit employees. Coaching for Everyone has also just launched a fellowship program for BIPOC individuals to become certified coaches themselves.
When recently asked what had surprised him the most, given such an accelerated start-up process during a global pandemic, Victor said, "Hands down, the most surprising and rewarding has been the unbridled support from all over the United States and abroad."
He continued, "The level of support and understanding for the significance of our mission is astounding. There's a French leader living in Romania who heard about us and is so inspired by our mission, he has raised over $2,000 and counting. It's all about the mission. The more people learn about us the more they want to get on board."
The Impact
After only six months, the organization has expanded from providing coaching for everyone to sponsoring a fellowship program to certify under-resourced individuals in becoming coaches. Several prominent training organizations are clamoring to become the certifying partner with Coaching for Everyone, and corporations are eager to sponsor employees in the program.
To Victor, the impact is clear. He explained, "Our first year, in addition to the hundreds of pro bono coaching hours our volunteers will provide, we will also certify 100 – 150 new BIPOC coaches. Over the course of one year, each newly certified coach will serve between 20 – 40 clients. Each year, the number of certified coaches will increase as we partner with more accrediting organizations and corporate client partners, creating a multiplier effect and impact. I foresee expanding the number of newly certified coaches to 500 within the next three years, literally adding to the face of the coaching industry and serving 10,000 – 20,000 under-represented individuals. Slowly we will see a steady change in work cultures, business productivity, community vibrancy and systemic equities."
This animated video says more: Coaching for Everyone – How it Works
Learn More, Get Involved or Support
Please visit www.coachingforeveryone.org to learn more about how you and/or your company can get involved. Better yet, reach out to Victor directly at victor@coachingforeveryone.org
We are proud that Victor has chosen to be a consultant on the Continuum Team and wholeheartedly agree with his statement, "I'm so grateful I asked that question and stayed with it, and people have responded. It has a life of its own."
When not leading and coaching, you can find Victor with his wife Susan and dog Cooper strolling the beaches in sunny California.
Lisa Marie Main, co-founder and partner for Continuum Consulting Services, is an accomplished leader, trainer, consultant, executive coach and facilitator of interactions that lead to alignment and results-based action for business and organizational leaders around the world.